Venetian Glass
Color Chart
Each Elizabeth Locke Venetian glass is handmade using 17th century glass molds. Our color chart shows the different shades of Venetian glass that are available. On most pieces, a mother-of-pearl backing is used to bring out the true vibrancy of the colored glass. The intaglio symbolism etched into the Venetian glass is inspired by Greek mythology which means Elizabeth Locke jewels are not only beautiful but also symbolic.
Most Venetian glass pieces can be special ordered in the color(s) of your choice. Just ask us.
Earring Options
Another exceptional feature of Elizabeth Locke jewelry is its versatility. Earring charms can be worn interchangeably with both Sarabella studs and all sizes of hoops, as seen below. Hoop earrings come in four different sizes: 14mm (baby), 16mm (big baby), 20mm (small), and 25mm (giant). All earrings worn in the model images on this site are shown using 16mm "Big baby" hoops.
Collapsible post and omega clip back earrings fit both pierced and non-pierced ears. The collapsible post can be made stationary by request. This normally takes 7-10 days.
Earring Hoop & Stud Options
Sarabella Posts –  ELIE0126
14mm Baby Hoops – ELIE0001
16mm Big Baby Hoops – ELIE0002
20mm Small Hoops – ELIE0003
25mm Giant Hoops – ELIE0216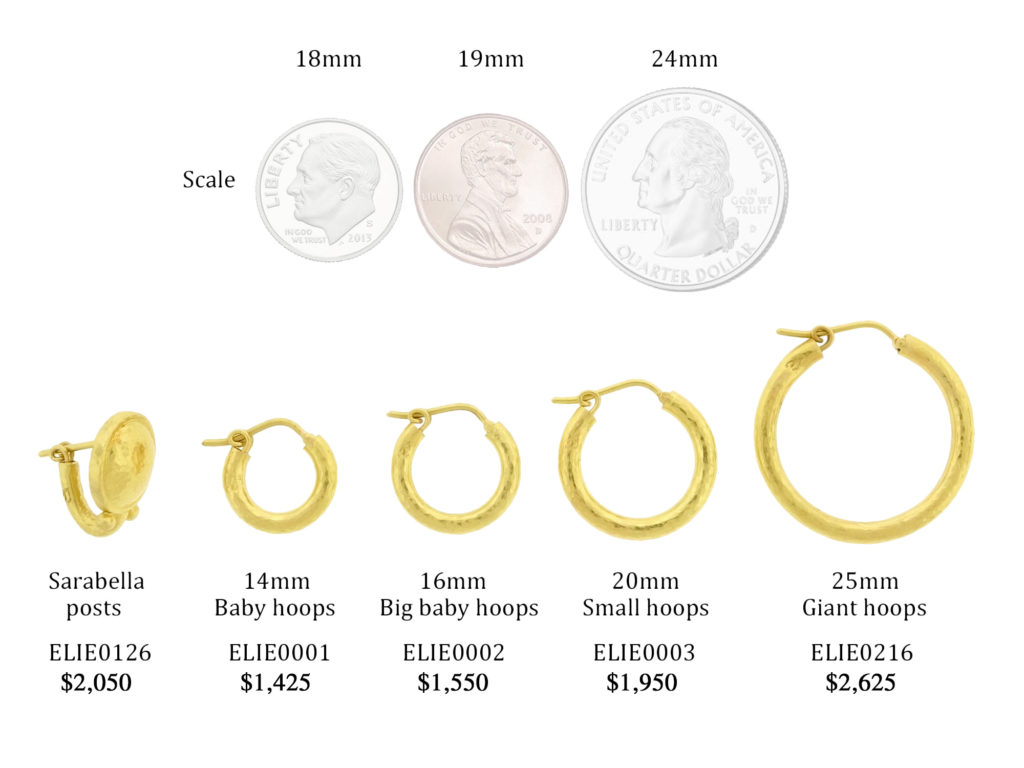 Sizing
All Elizabeth Locke rings come in size 6 ½. Most stone rings can be resized up or down by 1 ½ sizes. Venetian glass intaglio rings cannot be resized and will be custom made to your specific finger size. This normally takes 4-6 weeks.
Bangles come in a 6 ½ standard size. Other sizes can be custom ordered. Bracelets come in a 7-7 ½ size depending upon the style. Other sizes can be custom ordered.
Necklaces come in various sizes and can be custom ordered with additional links.